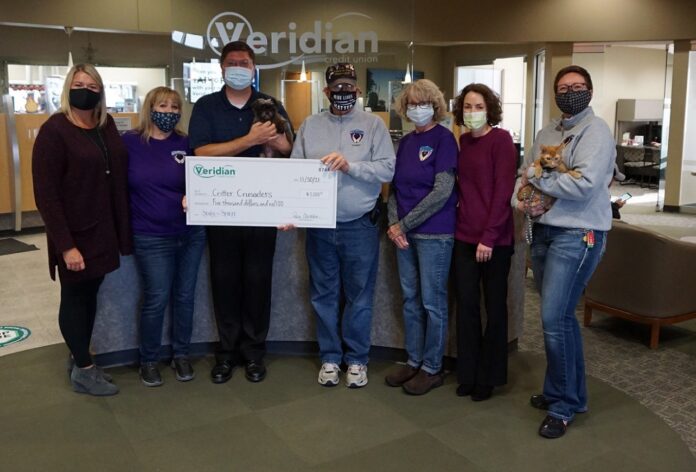 Veridian Credit Union is accepting votes for nonprofit organizations across Iowa and eastern Nebraska to receive $38,000 in celebration of Giving Tuesday on Nov. 29, including five organizations in the Corridor.
Twenty organizations across Iowa and eastern Nebraska have been nominated for the Spark the Spirit campaign by Veridian employees, including these five in the Corridor: Deafinitely Dogs!, Four Oaks, Freedom Foundation, Trees Forever and Willis Dady Homeless Services.
Veridian's annual Spark the Spirit campaign is designed to be a reminder that Giving Tuesday is approaching and an invitation for public input on where a portion of the credit union's giving should be directed to celebrate.
Votes are being accepted through Nov. 11 at veridiancu.org/sparkthespirit.
"The holidays are often a time of increased need, and many in our communities are facing an additional, unique set of challenges," said Renee Christoffer, Veridian's president and CEO, in a news release. "Spark the Spirit is one way to make a difference and a reminder for all of us of the importance of giving locally."
The top vote-getting organization in each region, including Waterloo/Cedar Falls, Cedar Rapids/Iowa City, the Des Moines Metro and Omaha/Council Bluffs, will receive $5,000 each. Organizations receiving the second- and third-most votes in each region will receive $2,500 and $1,000, respectively. Organizations receiving the least votes will receive $500. Details are also available at veridiancu.org/sparkthespirit.
Veridian Credit Union, founded in 1934 in Waterloo, Iowa, has 30 branches across Iowa and eastern Nebraska. For more information, visit veridiancu.org or call (800) 235-3228.